Men's Terra Byrne 6" Waterproof Composite Toe Safety Work Boot
Men's Terra Byrne 6" Waterproof Composite Toe Safety Work Boot
Engineered for premium comfort and long-lasting dependability, the Terra® Byrne combines time-tested materials and modern innovations to create a metal-free, do-it-all work boot that sacrifices nothing. The leather is fully waterproof and backed by a waterproof/breathable membrane. Moisture-management comes standard, with a wicking lining and CLEANFEET® odor-control treatment. Under foot, the PU comfort midsole pairs with the slip-, heat- and acid-resistant high-traction TPU outsole. CSA Grade 1 composite toe, composite plate and electric shock resistance round out the technologies that will help keep you safer and working your best.
Premium waterproof leather and waterproof membrane construction
Raked and padded comfort collar
Moisture-wicking and abrasion-resistant lining
CLEANFEET® odor-control treatment
DWR treated 100% Recycled PET quarter insert for added flexibility
Direct-attached industrial grade PU midsole
Slip, heat and acid-resistant TPU outsole
Premium comfort PU FOOTBED™ insole
CSA and ASTM approved composite safety toe, composite plate, ESR/EH
TERRA FIRMA-FLEX™ – 100% Metal Free
Styles available: Black (839BBK), Dark Brown (839BDB), Gray (839BGY)

TERRA FIRMA-FLEX™
TERRA FIRMA-FLEX™ lightweight Metal-Free technology. This revolutionary combination of super-weaved high tensile fabric and resilient polymer compounds makes for one tough toe- cap. The sole plate, constructed of laminated layers of this extraordinary composite, is even stronger: averaging 20% more resistance than traditional steel plates.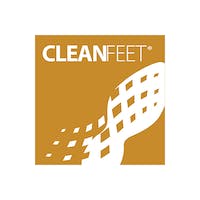 CLEANFEET®
CLEANFEET® odor control treatment is a game-changer in the footwear universe. This patented technology doesn't just help odor - it actually works to prevent odor before it starts. CLEANFEET® stops odor dead in its tracks. CLEANFEET® is a natural and safe method of controlling odor, guaranteed for the life of your workboots.
Slip Resisting Results
The following average coefficients of friction (CoFs) were attained under specified test conditions according to the CSA Z195-14 standard. Tested at Satra Technology Services.
Test Surface
Flooring


Mode of Test
Results (CoFs)
Quarry Tile
Dry
Flat
0.86
Heel
0.74
Wet
Flat
0.54
Heel
0.46
Stainless Steel
Wet
Flat
0.57
Heel
0.60
Floor and air temperature, type of flooring, a contaminated floor surface are all variables that can affect the slip resistance of footwear. We recommend you seek the advice of your retailer, safety officer, and/or TERRA, a division of Workwear Outfitters LLC for appropriate footwear for your application.