Styles with designated ASTM logo are tested in accordance with F2413-18 standard. This specification covers the minimum design, performance, testing, and classification requirements, and prescribes fit, function, and performance criteria for footwear designed to be worn to provide protection against a variety of workplace hazards that can potentially result in injury.

Steel protective toe cap meets the CSA Z195-14 Grade 1 and ASTM 2413 I/75 and C/75 impact and compression standards.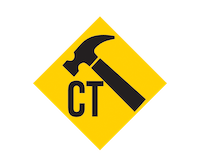 Non-metallic toe cap meets CSA Z195-14 Grade 1 and ASTM F2413, I/75, and C/75 impact and compression safety standards.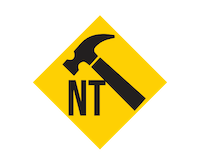 The latest generation of composite safety technology, carbon nanotubes are combined with fibreglass resin to create one of the strongest and lightest safety toes on the market. Our nano toes are dual ASTM F2413 and CSA Z195 certified.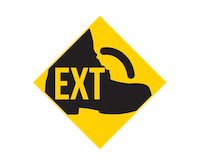 External met guards are affixed on the outside of the footwear, and offer additional metatarsal protection against impacts beyond the toe cap.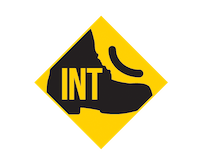 An internal met guard offers enhanced protection for the small metatarsal bones of the feet. Affixed between the inner lining and the outer leather, this component extends from the top edge of the toecap up towards the tongue of the boot for a seamless protective barrier.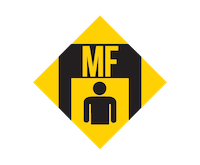 All safety components, hardware and materials are non-metallic, and meet or exceed the applicable safety standards and performance specifications required.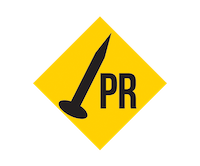 Meets ASTM F2413 and CSA Z195-14 puncture resistant standards with protective soles.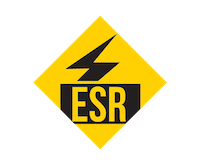 Meets CSA Z195-14 electric shock resistance. Sole provides resistance to electric shock, intended to withstand 18,000 V and leakage current not exceeding 1 mA.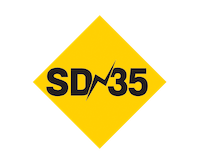 Styles marked with the SD+/SD35 icon are super static-dissipative. The testing tolerance is lower than standard SD, making these ideal for industries where static discharge is a critical hazard.
Meets CSA standards for SD. Each test specimen shall fall within a range of 106 to 108 Ohms.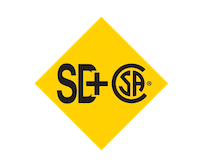 Meets CSA standards for SD+. Each test specimen shall fall within a range of 106 to 3.5 x 107 Ohms.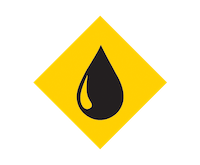 Full-booty construction and welded insulation offer complete around-the-foot waterproofing protection.
The CSA Green triangle indicates sole puncture protection with a Grade 1 Protective toe to withstand impacts up to 125 joules. Sole puncture protection is designed to withstand a force of not less than 1200 Newtons (122 kilos / 270 pounds).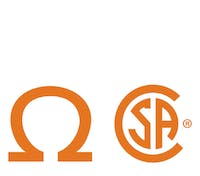 The CSA White rectangle with orange Greek letter omega indicates soles that provide resistance to electric shock. Such certified footwear contains a sole and heel design assembly that, at the point of manufacturing, has electrical insulating properties to withstand 18,000 Volts and a leakage current not exceeding 1mA for 60 seconds.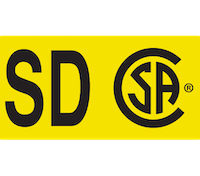 The CSA Yellow rectangle with a green "SD" and grounding symbol indicates soles are static-dissipative. The outer soles are made from an anti-static compound, capable of dissipating an electrostatic charge in a controlled manner. The test criteria are 106 to 108 Ohms. Note that SD footwear without toe protection will not have sole protection certified by CSA.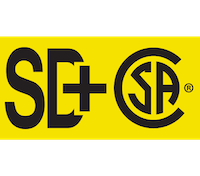 The CSA Yellow rectangle with a black "SD+" indicates soles are super static-dissipative. This protection feature is similar to SD, except the test criteria are 106 to 3.5 x 107 Ohms.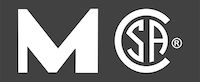 A new standard from CSA – only metguards bearing the "M" emblem are CSA approved. The mass (22.7kg) is dropped on the centred boot, impacting the metguard.

Innovative technology specifically engineered and designed to perform on wet ice. Calibrated for extreme cold -40 °C / -40 °F. Resists the effects of extreme cold often found with typical oil-resistant industrial compounds.

FIRE & ICE™ outsole provides superior traction and performance in high heat & sub-zero temperatures.

New breakthrough flexible materials with XRD® technology. Designed to stay flexible in motion but turn into an ultra-dense protective barrier upon impact.

TECTUFF® uses a proprietary chemistry. The polyurethane formula is applied to custom molds and is securely bonded through heat and pressure. The finish is the most durable in the industry and is impervious to dirt, oil, and stain penetration.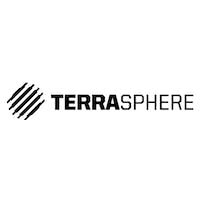 Featured in the Crossbow series. Even in the most extreme environments, your feet can rely on TERRASPHERE™: an intensively engineered eco-system at the core of your workboot.

20% lighter than previous generations, Kryptoe™ technology incorporates specially woven fibres with highly impact-resistant resins. The result is a globally certified, lightweight, low-profile composite toe.

Delivers advanced rebound technology in a lightweight, durable design. Pressure pods, engineered for extra bounce, are moulded in high-impact strike zones for on-target cushioning.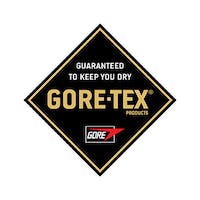 GORE-TEX is the global leader in premium, breathable waterproofing solutions. Waterproof membranes are used to keep your feet dry. With billions of microscopic pores, membranes allow perspiration from your feet to escape, while blocking the entrance of moisture from the outside.

DuPont™ Kevlar® aramid fibre allows people to Dare Bigger. It's used to make a variety of clothing, accessories, and equipment safe and cut resistant. It's lightweight, durable and extraordinarily strong.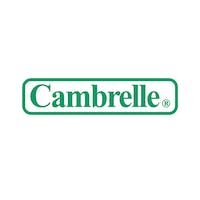 Cambrelle® fabric lining provides superior moisture management, comfort technology and abrasion resistance. These elements are fundamental for all-day performance.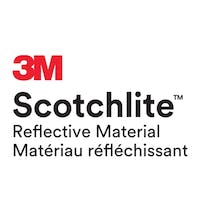 3M is a pioneer in developing the science behind retroreflection and has been advancing the technology for over 70 years. 3M™ Scotchlite™ brand is one of the most trusted names in reflective materials and fabrics.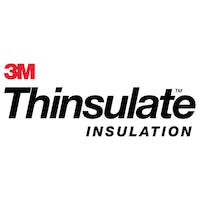 3M™ Thinsulate™ Insulation offers almost one-and-one-half times the warmth of down' and up to twice the warmth of other high-loft insulation materials. Unique microfibres work by trapping air between you and the outside. The more air a material traps in a given space, the better it helps regulate the inside temperature of the footwear.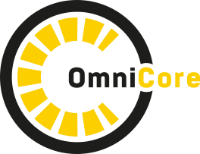 OmniCore features a built-in comfort footbed but rather than coring the top of the midsole directly under the footbed to create a space for the protective plate, we've cored out space underneath the midsole between two densities of foam.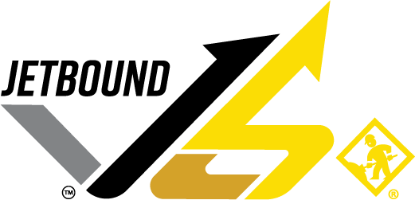 The Terra® JETBOUND™ insole delivers instant comfort. Ultra-soft, high-rebound EVA pressure pods absorb strike forces while the anatomically contoured shape provides underfoot support. A strong, stable EVA chassis helps lock